About
Rising from the Seattle music scene I followed as a flannel-clad teen, radio station KEXP has become a global force for alternative music, voices and important societal issues.
A non-profit, the station relies on listener support. As a long-time listener, I saw an opportunity to elevate an important and neglected aspect of the station's listening experience, its mobile app.
---
Streaming Like it's 2016
An early adopter of streaming, KEXP established an online presence that rivaled the best of commercial radio. In recent years I've found its online offerings lagging behind other listener-supported stations and popular on-demand streaming apps.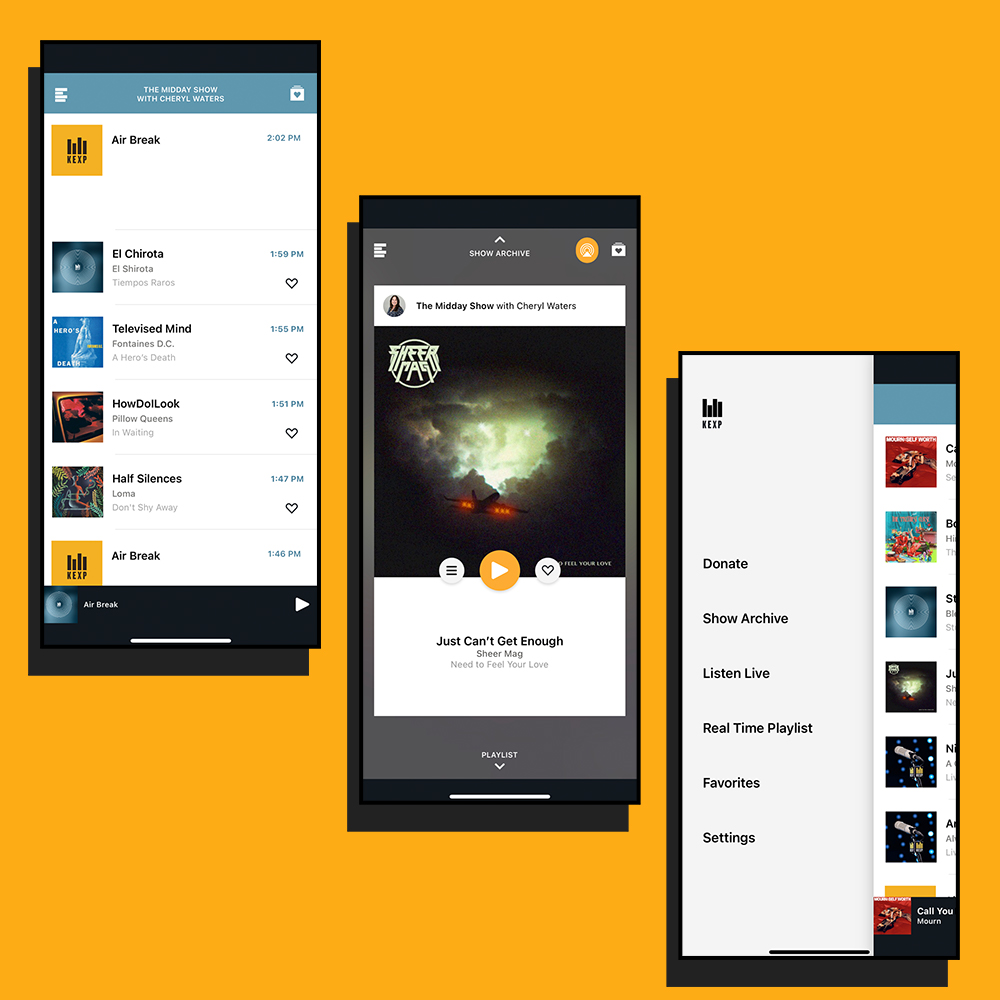 THE CHALLENGE
Craft a user experience that lives up to the KEXP listening experience.
If KEXP is to meet its grand vision of "creating meaningful music experiences on air, online, and in person," it needs a mobile experience to tie them all together.
To address this challenge I followed an iterative process based on the five-stage Design Thinking model as outlined by the Hasso-Plattner Institute of Design at Stanford (d.school) and Interaction Design Foundation.
Uncovering the Station-Listener Relationship
After extensive research, I compiled an affinity matrix of quotes, observations and statistics. I further formulated this data into additional insights that would guide me in the later phases of the project.
The findings clearly illustrated shortcomings of the existing app along with a unique appreciation of the station by both frequent and infrequent listeners.
Research Methods
Listener interviews & surveys (local broadcast & streaming)
Usability test of current website & app
Audit of similar/competitive music/streaming/radio apps
Scraping of public KEXP app reviews using Python
An audit of radio (public & private), podcast and streaming apps revealed the many ways in which stations enable or comlpiment their mobile listening experience.
Using the programming language Python, I extracted data from publicly available reviews of the KEXP app.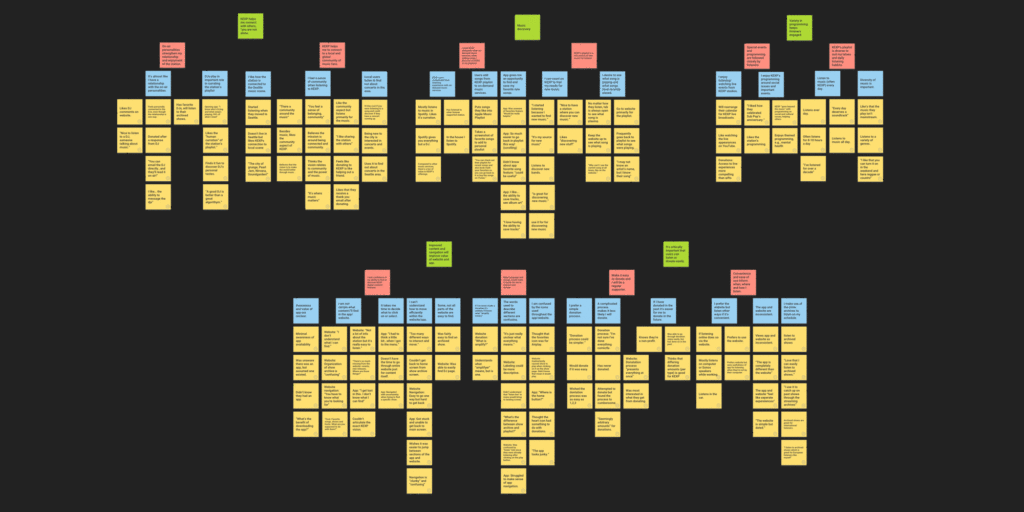 An affinity matrix was composed to identify the most essential listener/user needs.
Listener Findings
KEXP's programming inspires listener loyalty. Interviewees cited programming focused on mental health and support of the USPS as reasons they have donated.
In both user testing and an audit of Google and Apple App Store reviews, listeners expressed frustration with the app's limited features and confusing navigation. Listeners preferred listening in their car or through the website.
KEXP listeners "employ" the station to supply an unending supply of new musical artists, genres and songs.
The relationship between DJs and listeners is strong—one interviewee even went so far as to call them friends.
---
Defining the User
Meet Marcus, KEXP Listener & amplifier
A loyal and longtime listener of KEXP, Marcus needs a convenient way to discover new music recommended by his favorite KEXP on-air personalities. The demands on his time are greater than ever but music remains an important part of his life and relationship with others.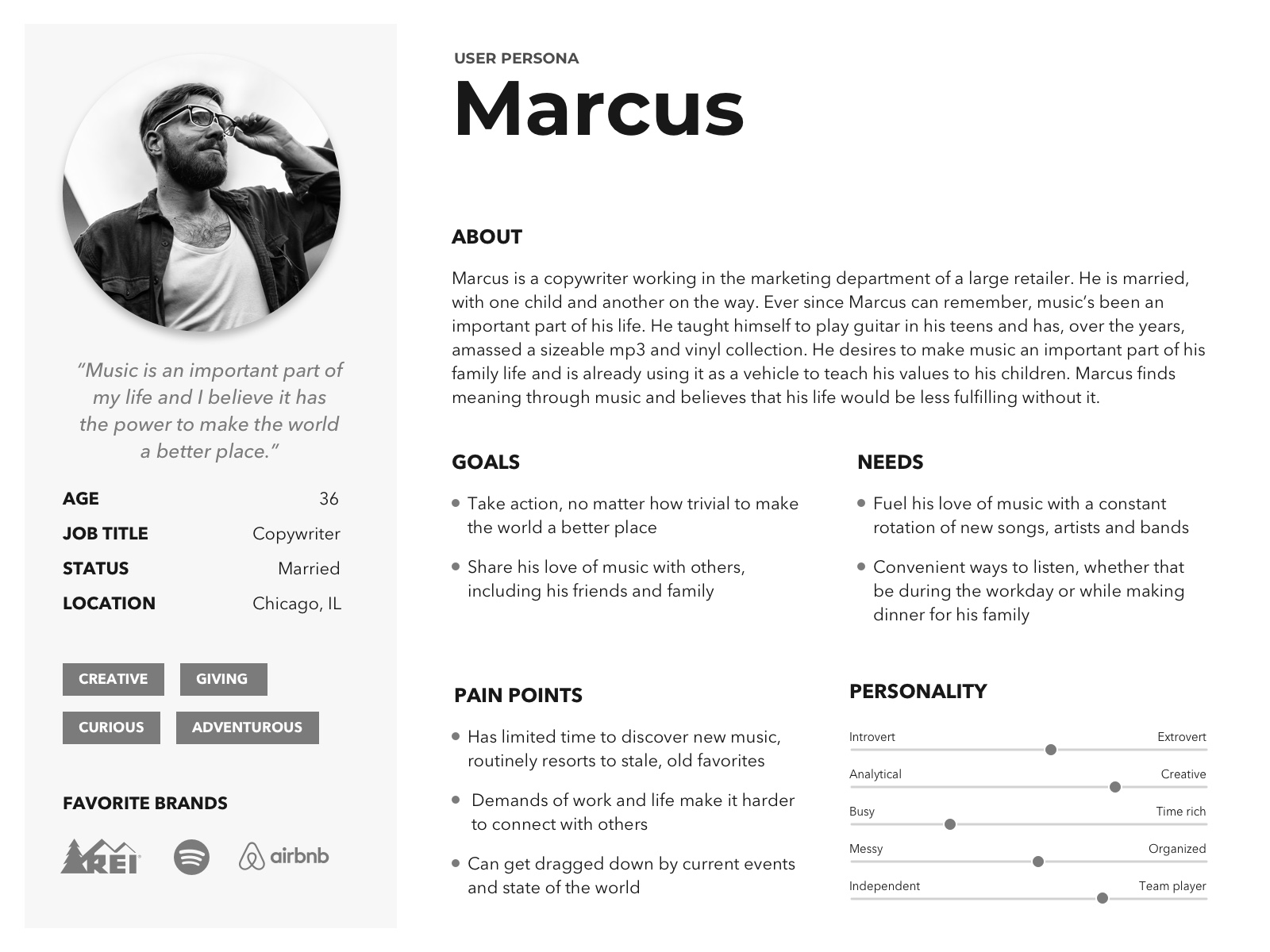 ---
Scope & Objectives
Translating user needs into opportunities
As a non-profit, resources committed to the development and support of the app and its features must be "well spent." After ideating features and frameworks, I used the MoSCoW Method to identify the features most desired by the user and viable for the station to support.
Guiding Principles for Further Ideation
Provide easy access to the features and content Marcus cares most about: livestream, archives and favorite songs
Highlight KEXP's on-air personalities
Create a unique experience for those who make regular, on-going donations to support the station
---
User Flow, Sketches & Wireframes
The user flow would follow the existing app's structure, establishing a livestream player as a home/welcome screen.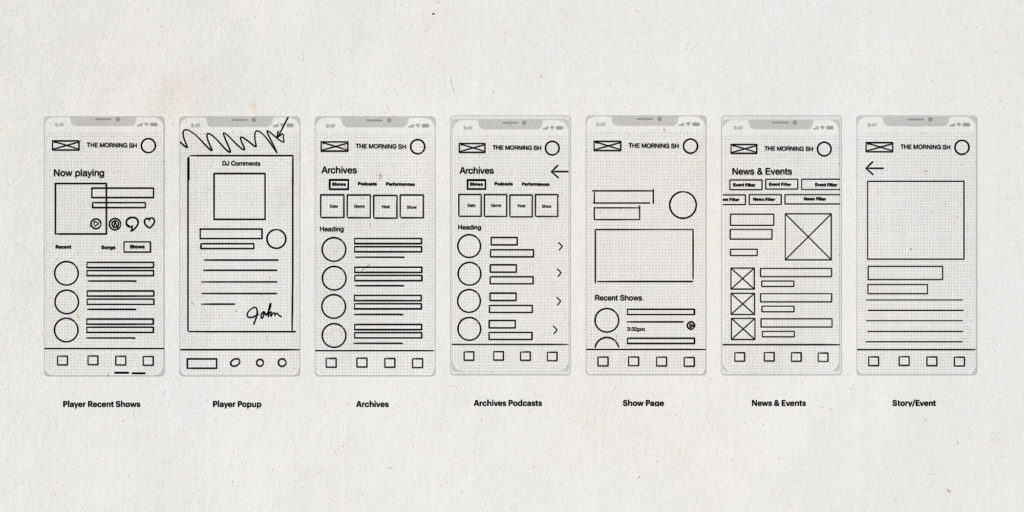 Wireframe sketches revealed the complexities of organizing and filtering the station's rich archive of content, most notably in the on-demand archives of shows, performances and podcasts.
High-fidelity wireframes were tested with users, further revealing the difficulties between balancing quick access to content and an engaging experience.
---
Reframing the Problem
It takes more than a livestream to fuel user's needS
Testing revealed that designating a livestream audio player as home screen obstructed easy access to other features and content. While the audio player is sure to be the app's most used feature, it alone, does not fulfill the primary user need of new music discovery.
With this in mind user flow and wireframes were revised. At the same time, the core problem to be solved was reframed in a way that would help provide a more wholistic view of the app's ability to address user's needs.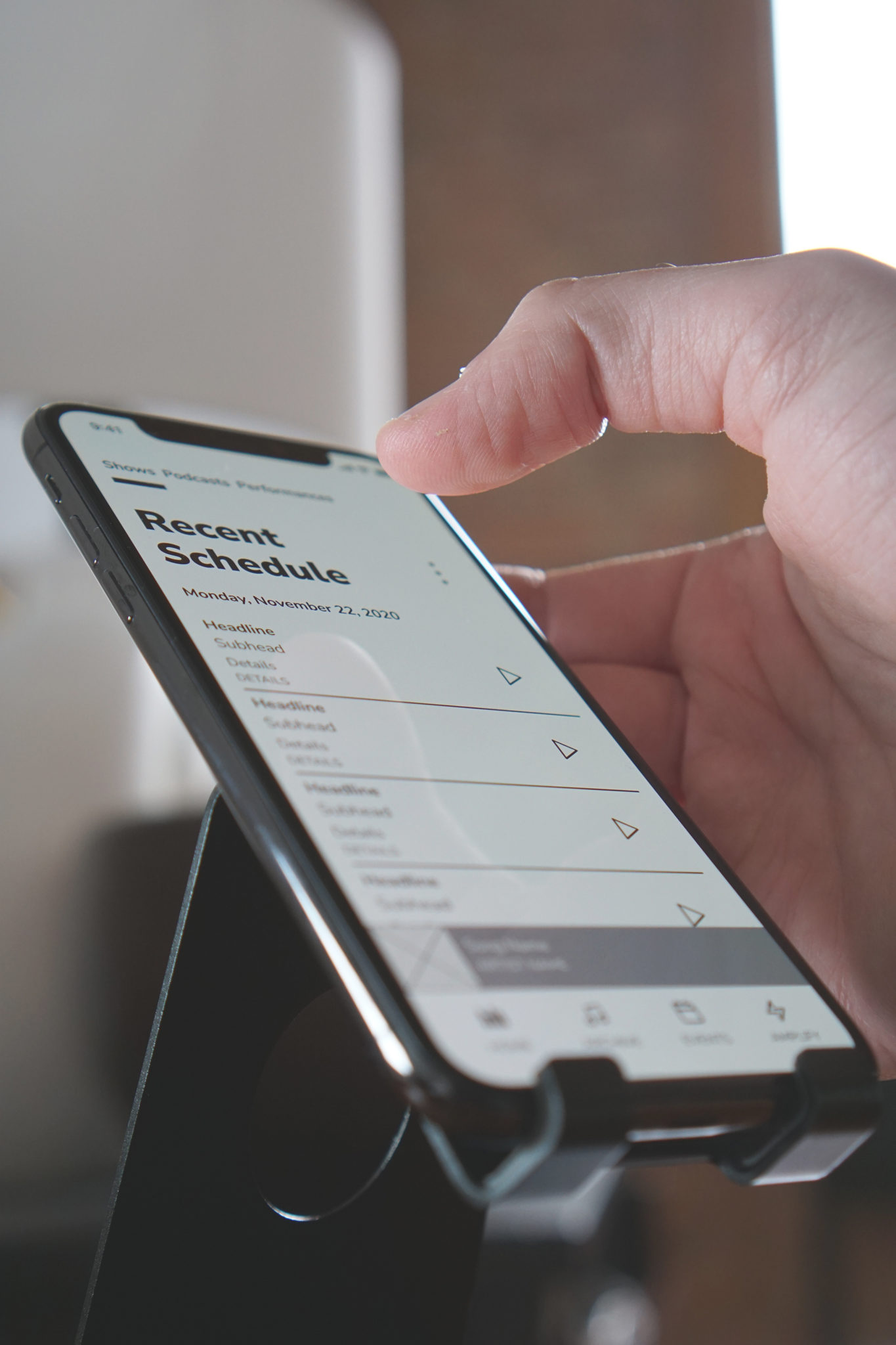 How might we put the true power of KEXP in the hands of its listeners?
Testing made it clear. News, events and archived content were just as likely to help users discover new music as the station's livestream. Providing the best experience for listeners necessitated easy access to everything that KEXP has to offer.
---
Introducing
The KEXP Listening Experience, Amplified
At any time and any place, the global community of listeners who power KEXP can finally be free of the algorithms that take the joy out of new music discovery. With the KEXP app they can enjoy access to the songs, artists, content and on-air personalities that make music an important part of their every day life.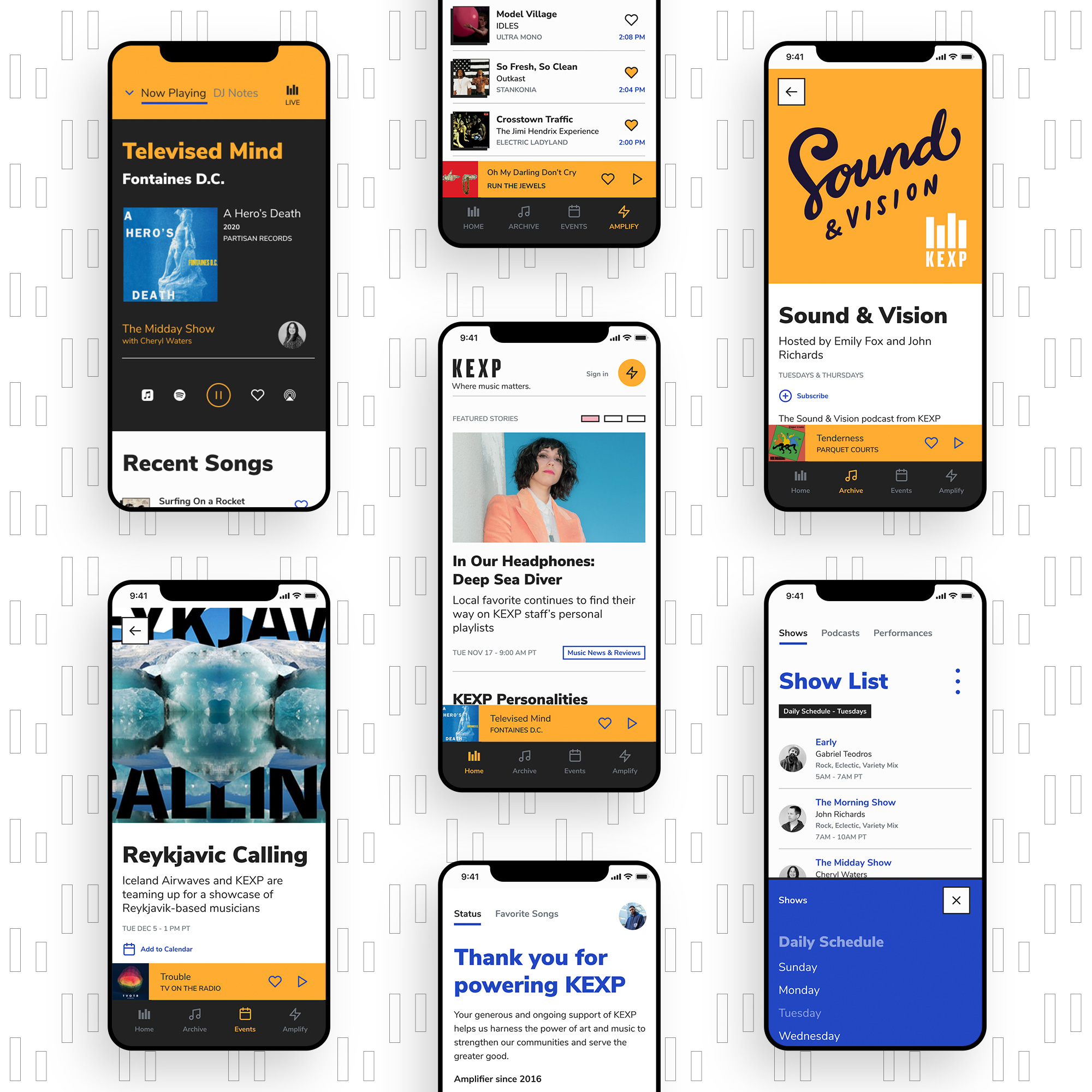 News, Reviews and Familiar Voices
Open the app and immediately discover the latest music and station-related news. Scroll down to learn more about KEXP's diverse roster of on-air personalities.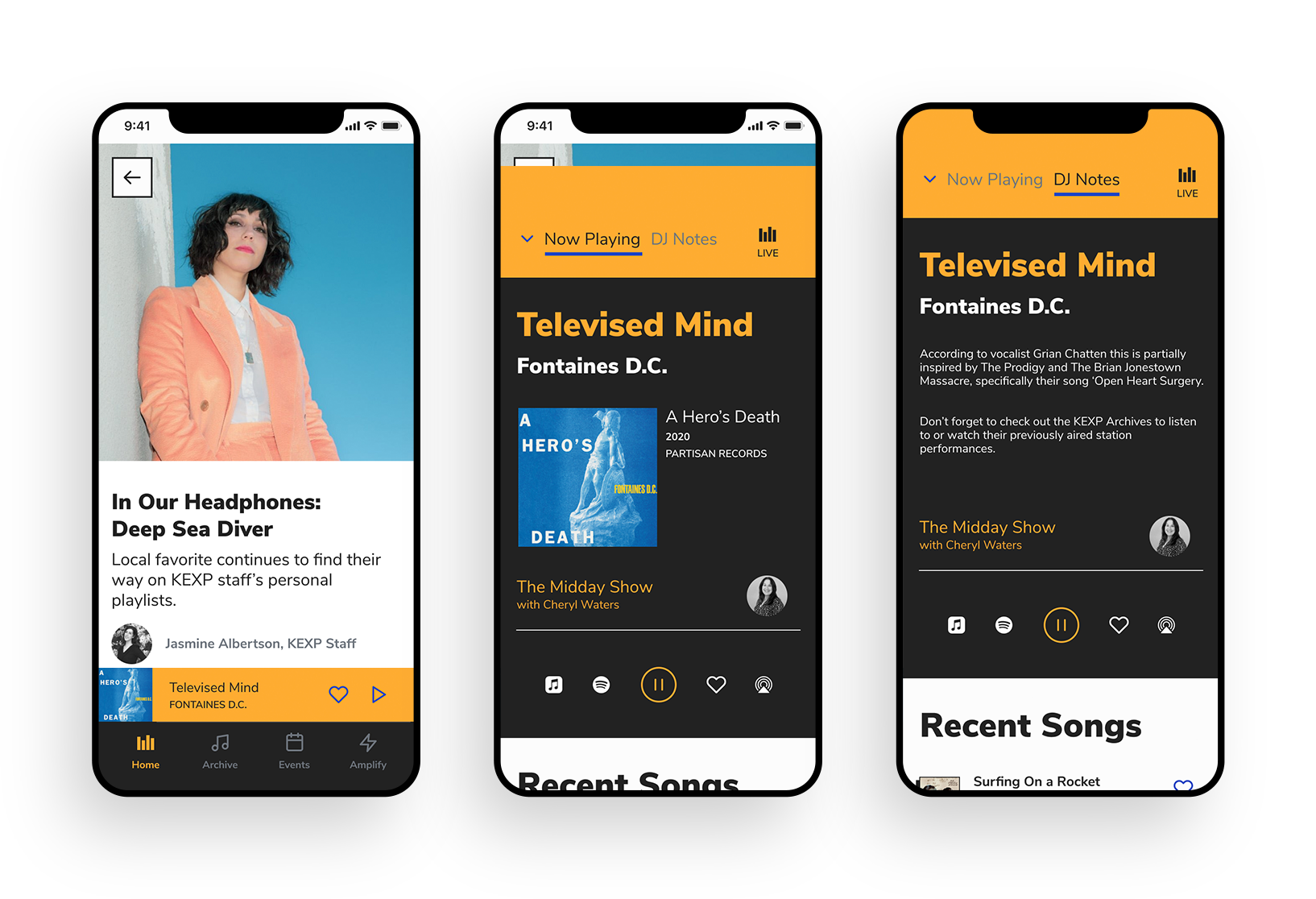 PLAY FROM ANYWHERE
An expandable audio player enables users to quickly save their favorite songs from any location in the app.
Inside the drawer users can see the currently playing song, show, DJ and a list of songs recently played.
By swiping left listeners can learn more about a song from notes written by the on-air DJ.
Navigation
Gone are confusing labels and navigation. The entirety of KEXP's digital content can now be found in four simple categories; Home (which includes station and music news), Archive, Events and Amplify.
Filtered Lists
A hidden, but easily accessible menu drawer filter implemented across the app makes it easy fo users to find what they're looking for—whether it be a podcast, album review, prior show or event.
Set Your Own Programming
KEXP's extensive archive of past shows and live performances are easy to explore and listen to in the archive section
Recommended Virtual and Live Events
Users can discover both local (Seattle area) and global events handpicked by KEXP staff within the app's "events" section. Concerts, festivals and performances can be added to the phone's calendar with just one tap, on the event listing page.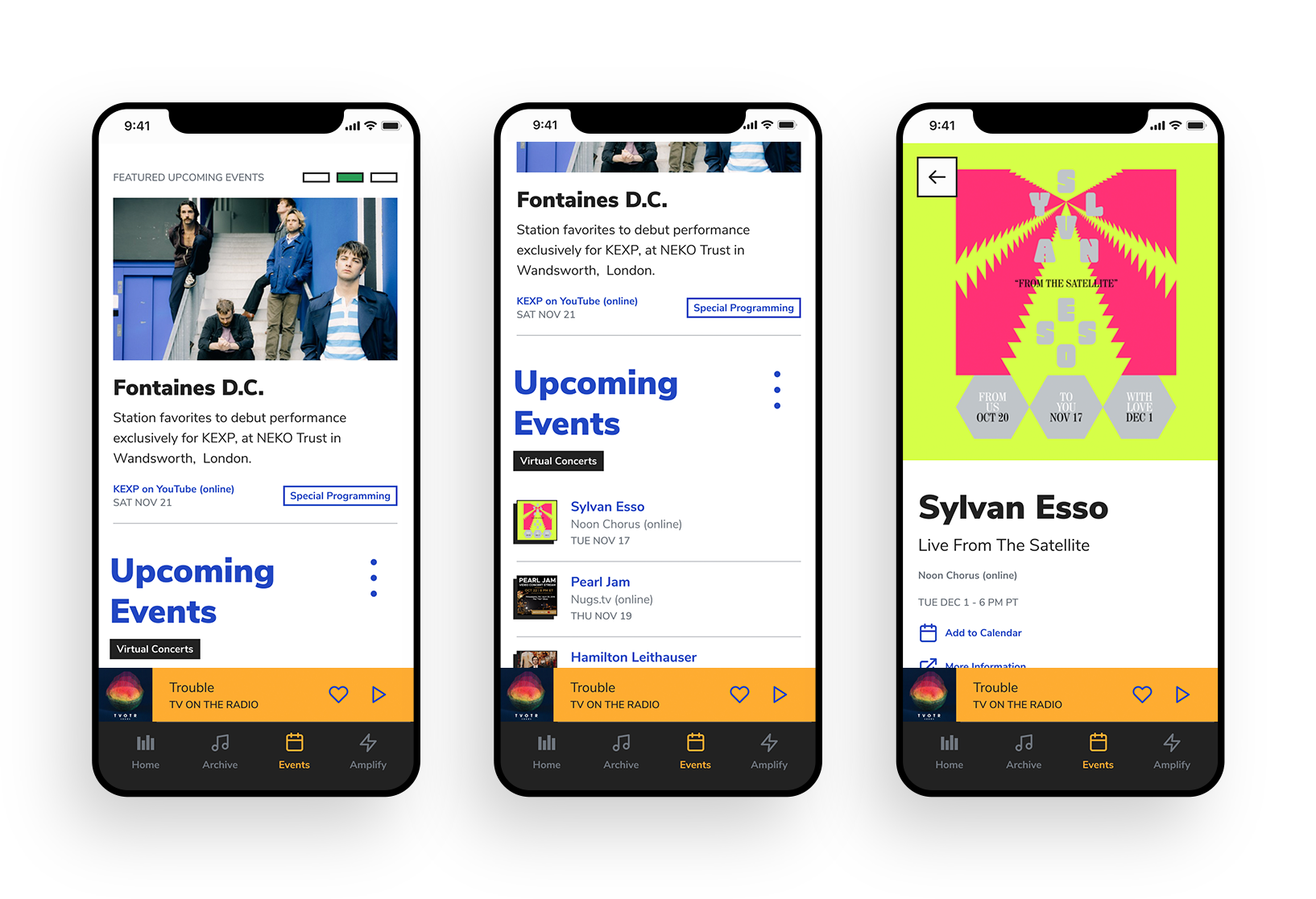 A Call to Amplify
In interviews, listeners regularly compared KEXP programing with that of paid services like Spotify and Apple Music. Since listener support powers KEXP, this insight will serve as inspiration for a re-tooled Amplifier program.
Amplifiers, or those who make regular or sizable donations to KEXP will enjoy the ability to save and view their favorite KEXP songs.
They'll also view donation history, current status and respond to calls from KEXP personalities for additional support.
Coming Soon: A convenient in-app donation process and further interaction with on-air DJs.
---
Outcomes and Next Steps
To fully address the needs of users is to embody a brand/organization's vision, purpose & values.
Helping to fulfill KEXP's mission of "championing music and discovery" necessitated robust user access to everything the station has to offer. The act of empowering "music fans" to control their KEXP experience helped put it on par with other acts of music discovery, like browsing the bins at a local record store.
Next Steps
Testing & Iteration of existing prototype
Simplified in-app donation process
Additional In-App Amplifier Benefits/Features
Redesign of Event Screens
Thank you for reading and if you would like to discuss this project or any other opportunities, please drop me a note.